In August of 2021, an online order was made for 6 Picnic Benches with the address of Inishbofin Island. A purchase made by Adrian; owner of The Beach Day Bar & B&B. Inishbofin is an island off the coast of Connemara with less than 200 people for its population. Upon further investigation, islanders were forced to pay a large transport fee to have items delivered to their doorstep via ferry. Hearing the inconvenience this caused for the island locals. Paul & Derek made the spontaneous decision to hand deliver the items themselves.
In May of 2022 Paul & Derek decided to make a return to Inishbofin, much to the delight of local islanders. This year, giving locals 3 week's notice to their arrival on May 31st. Paul & Derek were only thrilled to get out of the office for a scenic road trip and in doing so going the extra mile for the customer. In doing so, bringing their Digital Marketing Executive Ben, to document every step along the way.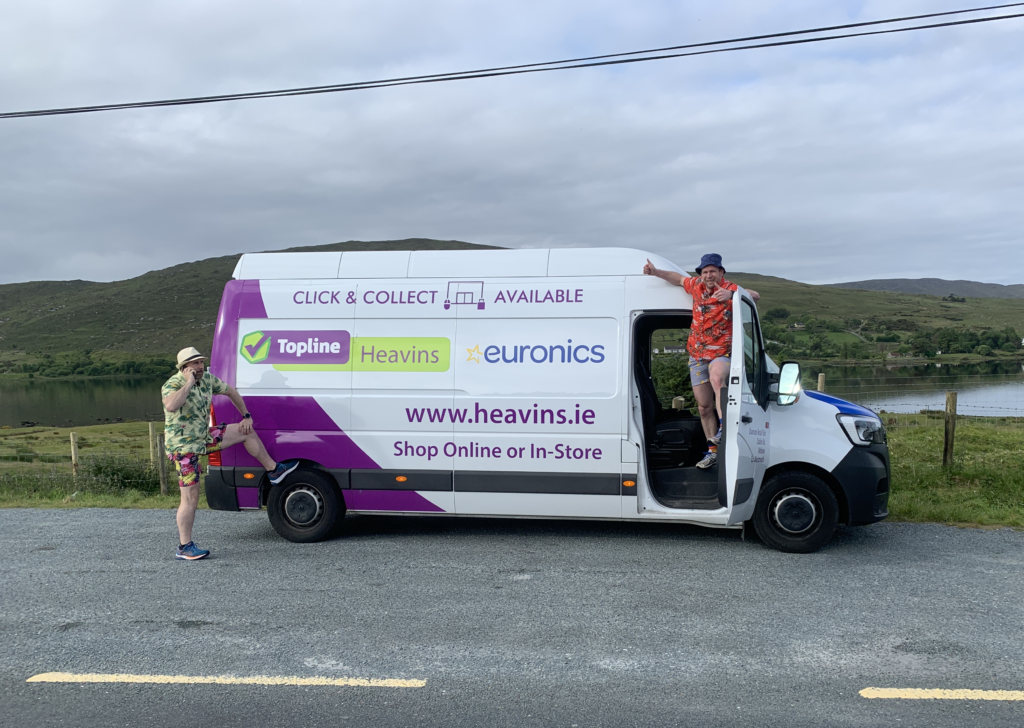 With the van packed with valuable, in demand goods. The Heavins made it safely across to the hallowed island. Paul & Derek were met with welcoming arms and all items were hand delivered swiftly. An echoing positive response from the islanders, thanking Heavins for their amazing service. With all items delivered to a 5-star standard, this left time for a bit of craic. Below is Derek's best impression of David Hasselhoff.
Although Derek came to Pauls rescue on this occasion, neither seemed to keep track of time. With Derek's burnt hand and a slightly traumatized Paul, Its rumoured the two are still rowing their way home. Let's hope they make it back in time for their annual island visit in 2023.
Overall the trip was a huge success and gives dividends to the company that Topline Heavins & Euronics are. Going the extra mile and exceeding customers' expectations is what they pride themselves on. But, where or what to next for the Heavins cousins?
Is there a challenge too big for this spontaneous pair? They don't believe there's such thing.
For more hilarious video content please visit our YouTube Channel
Products featured:
Sunclub Inflatable Family Size Swimming Pool – 2.6 Metre – €49.99
Premier D Grip Wooden Handle Poly Grain Shovel Snow Shovel – €34.99
Yawn Self Inflating Air Bed With Fitted Sheet – Available in Single – King Size From €99.99
Minky Ergo Ironing Board Grey & Blue Metallic Effect – From €49.99
Morphy Richards Jet Steam Plus Pink Compact Steam Generator – From €14.99
Curver Rattan Rectangular Laundry Hamper Basket – Oasis White | Cur187492 – From €5.99