Pressure washers, also known as power washers, have become one of our bestselling products at Heavins. More and more, homeowners are realising that this versatile piece of kit isn't just for the professionals. Though they may look a little intimidating to the untrained eye, pressure washers are the ultimate convenience tool and can save you considerable time and elbow grease in the garden. This high-performance cleaning technology will have your outdoor area looking spotless in seconds – no skills required. And we guarantee that once you add one to your gardening arsenal, you'll question how you ever survived without it.
You're likely to get the most out of a power washer during the warm summer months. As we begin to spend more time outdoors firing up the barbecue and dining al fresco, we want our garden looking its best. If you're unsure where to start, we're here to give you the lowdown.
What is a pressure washer?
A pressure washer is essentially a super-hose. Water enters the machine at a low pressure, and then an electric or petrol motor pumps it out at a much higher pressure. This expels a narrow jet of water from the nozzle that blasts away anything in its path. Because the water is travelling at such a high speed, it is kinetically charged on impact, effortlessly lifting dirt that just won't budge (or so you thought). And the best part is that because they use only water, power washers won't damage your property or strip paint in the process. Of course, we recommend testing it out on an inconspicuous area before taking aim at any delicate surfaces. Pressure washers also save up to 50% of the water that running hosepipes waste in the same time, making them a more environmentally friendly cleaning solution.
What can I do with my pressure washer?
For homeowners, the most common use for pressure washers is outdoor cleaning. They can restore the grimiest of surfaces with minimal effort in a matter of minutes. Not only is the build-up of dirt an eyesore, but it can also jeopardise the safety of your outdoor living space; algae and grease can turn patios into slipping hazards if left unattended. Even the most stubborn of substances are no match for good power washers, which can remove tar, gum, wax and even rust. People often use pressure washers in the painting process to prepare surfaces before application. Spraying the area first can get rid of old, flaking paint, moss and any other debris for a smooth and even coat.
Pressure washers offer unbeatable versatility, and can bring virtually any hard surface back to life. Some of our favourite things to clean with ours include:
Patios, driveways and decking
Walls and fences
Cars, boats, bikes and other vehicles
Garden furniture
Lawnmower and other garden tools
Dog kennels, chicken coops etc.
Outdoor play equipment
Gutters
Wheelie bins
Garage floors
How to use a pressure washer safely
Once you get the hang of your power washer, it's actually rather fun to use. So quickly and dramatically do they work their magic that you may even find yourself offering to give your neighbours' gardens a makeover. Every model is different and will have its own instructions for use. That being said, many will share some key similarities which are outlined below.
Most domestic pressure washers are electric (more on that to follow). Setting up these machines requires a water supply, as well as somewhere safe to plug them in. Most will allow you to use either use a water butt or a hose fitted with a free-flowing adapter – ideally this should be at least 15 metres long.
Once you have connected the washer to your preferred water supply, firmly press on the trigger until water is running in a steady stream. This will remove air locks in the system.
Hook your machine up to the power supply and switch on the motor. You may hear the motor activate for a few seconds. This is a sign your machine is pressurising itself.
Your pressure washer is ready for use. Use the controls to select the desired pressure and take aim at the dirty surface. Make sure to keep the nozzle at a safe distance from any people/delicate objects at all times.
If you want to disinfect the area in the process, there are special detergents available for pressure washers too. However, make sure not to use bleach or any other standard cleaning agents in your machine as this could cause damage.
When you are finished washing, turn off the water supply followed by the machine. Press the trigger to release the remaining pressure, and remove the hosepipe from the machine if necessary.
Pressure washers can cause injuries and/or damage without the correct measures in place. Here are some important safety precautions to take before getting started.
Always wear protective clothing, such as goggles and steel-cap boots, during use.
Move any fragile objects out of the way.
Take care not to wet the power supply with the stream of water.
And as always, if you have any questions about a pressure washer purchased at Heavins, one of our expert staff members is always just a phone call away.
Our top picks
Let's firstly differentiate between electric and petrol power washers. Electric power washers are more suited to at-home use. They are generally light and easy-to-manoeuvre with an ergonomic design and simple controls. Their performance and functionality matches that which is required for most domestic chores, and they don't take up too much storage space. The downside is that electric models must be plugged into an outlet during use, which means you must prevent the connection from becoming wet at all costs. Petrol washers, on the other hand, are more heavy duty and built for professional, everyday use.
When it comes to electric pressure washers, Kärcher is the gold standard. This best-in-class brand offers a huge variety of models to suit all tastes and preferences. No matter what you choose, you're guaranteed a stunning feat of German engineering with Kärcher. Below are some of our favourite Kärcher washers to keep your home looking pristine this summer.
The Beginner
Many homes simply need a retouch now and again to freshen things up. If you're looking for a simple yet effective model that won't break the bank, we recommend the K2 Compact Electric Pressure Power Washer. It offers the same power as a standard size Kärcher unit in a much smaller package. The K2 Compact is designed to tackle both hard and delicate surfaces around the home, spraying away dust and debris with ease. This portable model is a dream to use thanks to its neat size and lightweight feel. Its cables, hose and accessories can be conveniently stored on the machine itself for fuss-free transport and manoeuvrability. Ideal for restoring car paintwork, this fun-size device is compact enough to be stored in the boot for easy access on the go. The durable plastic casing is impact-resistant and built according to the high quality standards for which Kärcher is known.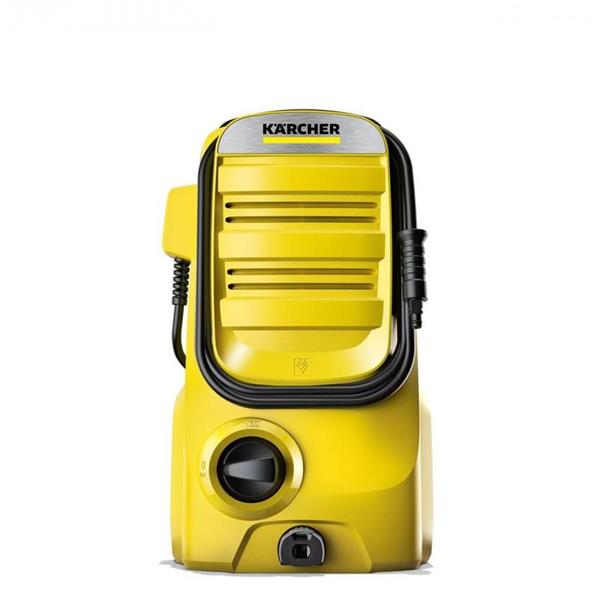 The All-Rounder
If you're looking for a solid mid-range option, you can't go wrong with the award-winning Kärcher K4 Power Control Pressure Power Washer. This adjustable machine is perfect for medium-sized cleaning tasks around the exterior of the home. It comes fully loaded with four accessories for advanced functionality, including a high-pressure gun and two lances. Enjoy superior reach and flexibility with its 8-metre hose and telescopic handle for those hard-to-access areas. The LED display on the trigger gun makes operation a breeze, allowing you to effortlessly switch between pressure settings. Other highlights include its unique Plug n' Clean system which releases detergent while you clean for maximum efficiency. The K4 also comes with a 3-year warranty for added peace of mind.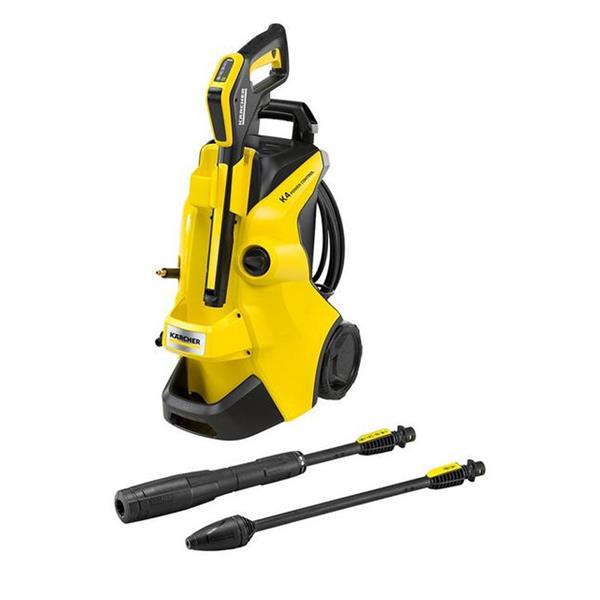 The Big Kahuna
For the big jobs, only the Kärcher K7 Premium Smart Control Home Pressure Power Washer will do. This does-it-all cleaning machine is Kärcher's most powerful domestic model yet. The K7's water-cooled motor is built for frequent use on seriously stubborn gunge and grime. Its suite of state-of-the-art features includes a 10 metre high-pressure hose, rotary power control, adjustable spray nozzle and water inlet filter. This dirt-blasting machine allows you to switch between surfaces and pressures at the touch of a button, and can be controlled using your smartphone thanks to Kärcher's cutting edge technology. Despite its professional-grade performance, the K7 is easy to transport thanks to its wheels and on-board storage. If you're looking for a premium cleaning experience with all the trimmings, this innovative device ticks every box.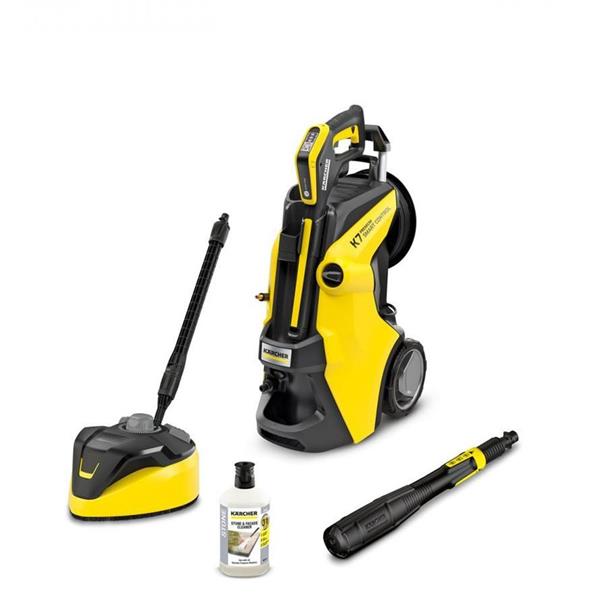 Homeowners will rejoice at how quick, easy and efficient pressure washers are. Discover the magic for yourself and invest in your own today. To shop the products mentioned above and more, check out our full range here.