Paul & Derek pictured outside Áras an Uachtaráin
A day that will go down in Topline Heavins & Euronics history.

On Tuesday the 6th of December, Paul & Derek Heavin hand delivered an order placed on Heavins.ie by the staff of Áras an Uachtaráin for the president Michael D. Higgins. This date has engraved itself in the history of the business for decades to come.
Unfortunately, Paul & Derek did not get the opportunity to thank Michael D. Higgins for his business or meet the Presidents well known pet dogs Bród and Misneach. Albeit, a memorable moment for the directors of the business, this achievement reflects heavily on the foundations imposed by Derek's mother and father, Maureen and Willie Heavin who started the business in 1984.
The Heavin cousins are well known for their marketing activities on social media. Which can be found on Facebook, Instagram, TikTok & YouTube. Why not check out the green jackets?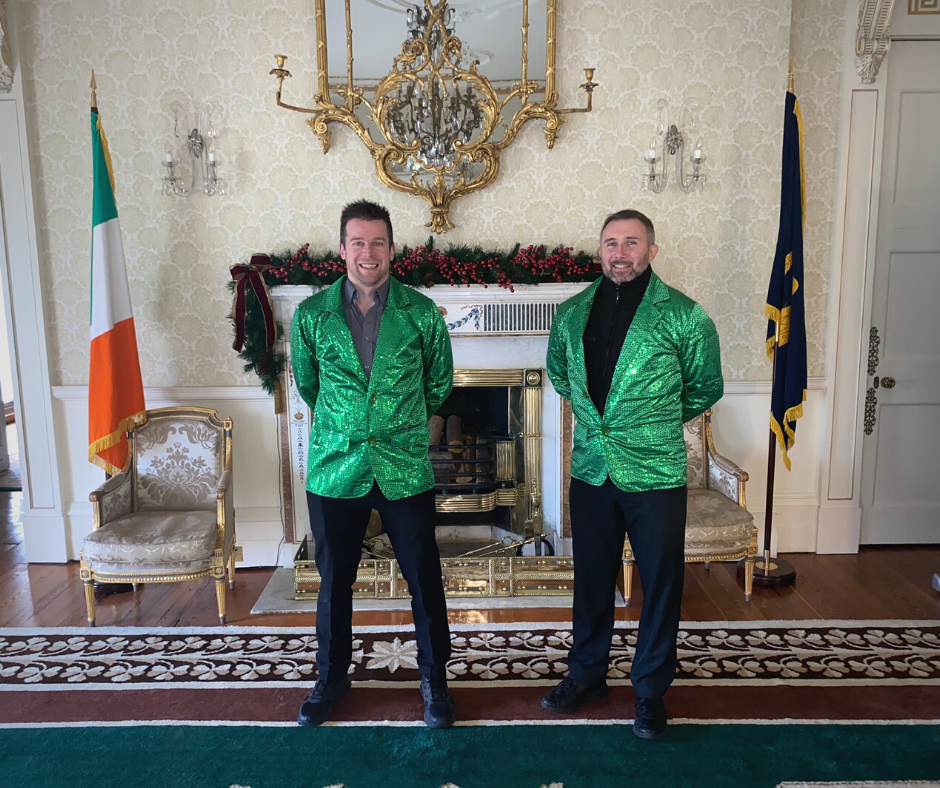 Despite the large volume of orders during the Black Friday and Cyber Monday period. They knew an opportunity like this doesn't come around too often unless the President becomes a returning customer of course!
Recently, Heavins.ie have been nominated for Most Trusted Website of the Year for the Digital Business Awards 2022 and no better way to show how much our customers trust Heavins.ie by receiving the stamp of approval and an order from the Presidential staff at Áras an Uachtaráin. In late 2022 we celebrate 5,000+ Trustpilot Reviews
The following days after the delivery, Paul & Derek received a personal phone call from Áras an Uachtaráin thanking them for the lovely thoughtful gifts they supplied and the excellent customer service.
Many thanks to Michael D. Higgins for trusting in our Irish owned family run business.